Right now we are in a barren landscape of news, images and information regarding the next film in the Jurassic series. Listener, Thomas Fishenden reached out for a segment on Episode 108 regarding creating artwork that pays homage to Jurassic Park via Jurassic World: Fallen Kingdom fan art. It's a very interesting take on the upcoming sequel, pulling from what we know about Fallen Kingdom and using aspects of Jurassic Park to visually describe the new film. Skip ahead via the audio below to minute mark 44:30 to hear Tom's take on creating fan art.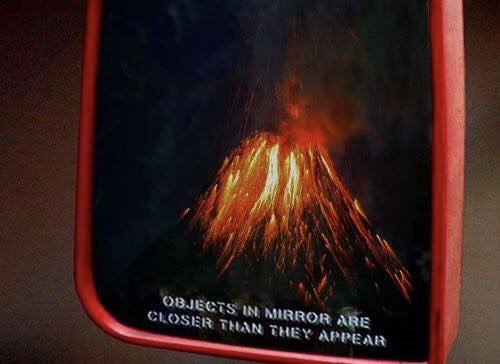 Above you can see Tom's offering to this challenge via the throwback to "Objects In Mirror Are Closer Than They Appear", showcasing the Jeep on the run from an erupting volcano. Following the production of Jurassic World: Fallen Kingdom, there have been clear signs from the cast and crew that things are about to erupt. This image is a great way to look back on Jurassic Park while foreshadowing potential events from Fallen Kingdom.
Below is another example provided by Tom with John Hammond's cane with the new film's logo inside. It's another fun way to debate the "Kingdom" that will be falling in the sequel film. Around the halfway point of filming, director J.A. Bayona tweeted an ominous image of Hammond's cane, leading fans to speculate that it will play a role in the film.
Since we are hosting Tom's segment here on the podcast, we figured we should take a quick stab at the project. Using an image of the old Jeep from jurassicworld.com - we overlaid the new logo on the vehicle door, cut around the overgrowth and applied some aging effects to the image. You can see below how the use of the old Jeep and the coloring of the logo pays tribute to the new film.
Lastly, we have an image we stumbled across on the web. This is the perfect rendition of Tom's outreach to the fan community. Artist, Sebastien Evrard created this amazing image paying homage to Jurassic Park via the T-Rex skeleton and "When Dinosaurs Ruled The Earth" poster inside what looks to be a setting from Fallen Kingdom. The first official promo image for Jurassic World: Fallen Kingdom included the young girl standing in the museum-esque room in front of several fossil offerings. What a great image!